Are you hiring?
Employers Click Here!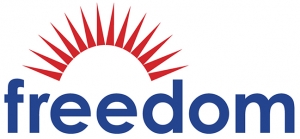 Sales Mixer Event - Meet Our Leaders, We're Hiring Now!
Description:

WHO WE ARE:
Freedom Financial Network is a family of companies that takes a people-first approach to financial services, using technology to empower consumers to overcome debt and create a brighter financial future. The company was founded in 2002 by Brad Stroh and Andrew Housser on the belief that by staying committed to helping people, you can ensure better financial outcomes for both the customer and the business. This Heart/$ philosophy still guides the vision of our growing company, which has helped millions of people find solutions for their financial needs.
What began with 2 people in a spare bedroom has now rapidly expanded to a vibrant business that employs over 2000 employees (known internally as The Freedom Family) in two locations: San Mateo, CA and Tempe, AZ. When you visit either of our offices, you'll understand why our employees have voted us the Best Place to Work for the last several years. It's a place where the Heart/$ philosophy continues to thrive, where we believe that success is only achieved by doing what's right for our customers, our employees, and our communities.


EVENT DETAILS:
We invite you to mix 'n mingle with hiring leaders from two of our most successful Sales teams - We are hiring now!
Thursday, February 8th, 2018
3pm-6pm
Hilton Garden Inn – 2102 E. Rio Salado Pkwy Tempe AZ 85281
During the event you will:
Learn about Freedom Financial Network and why we've been voted the #1 Best Place to Work in Phoenix 2 years in a row!
Learn about two different Sales opportunities in Freedom Debt Relief and Freedom Plus Lending (Personal Loans).
Learn how our top sales representatives earn $95k-$115k+ per year (our average reps earn @ $70k-$75k per year).
Casually mix and meet with hiring leaders and Recruiters from these two Sales teams to explore the possibilities!
Ask any questions you may have about the company, the roles and the opportunity to truly help customers in a time of need while building a very rewarding career with us.
We encourage you to RSVP for the event using the link here: https://app.jobvite.com/TalentNetwork/action/campaign/w/Mzk3Mjk
Walk-ins are also welcome, but we do require all attendees to meet these basic qualifications to obtain entry into this exciting event:
Minimum of 3 years' sales experience.
Minimum of 1 year in a call/phone center based environment.
Proven track record of sales success in a fast paced, commission driven environment.
You must bring at least 1 copy of your updated resume with you.
WHY JOIN THE FREEDOM FAMILY?
Fast, continued growth – there's a lot of opportunity for advancement
Voted a Best Place to Work multiple times by our employees, most recently #1 in Phoenix for the 2nd year in a row!
Hourly + uncapped monthly commission (average - $75k, top - $105k+)
Leadership opportunities – manage a team of your own!
Benefits start within 30 days
401k with employer match
2 weeks' paid vacation (increased with tenure)
9 paid holidays & 5 sick days
Paid time off for volunteer work and on your birthday
Skills:

Salary
$95k - $115k+ Hour
Posted
02/05/18
Location
2102 E. Rio Salado Pkwy Tempe AZ 85281