Are you hiring?
Employers Click Here!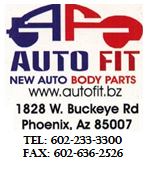 Warehouse part puller
Description:

We have a large inventory of auto body parts in our warehouse located in SW Phoenix on 19th Ave. and Buckeye Rd.
We need people who like to have an active job that requires walking and moving around, not sitting all the time!
We offer good benefits such as health insurance and paid vacation.
You must have a valid driver license to apply.
Call Julie at 602-233-3300 for more info.
Skills:

Salary
11.75 - 12.00 Hour
Posted
04/27/18
Location
PHOENIX AZ 85007